In sum, generators can provide a cost-effective option for a short duration, close-proximity water pumping situation. SPWPS or utility-sourced electricity is likely a better choice if you prefer a longer investment period (greater than seven years).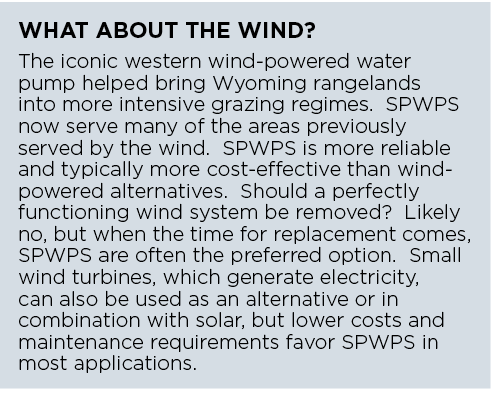 What critical factors would likely make SPWPS viable for my operation?
Through exploring the scenarios and exploring further nuances in the referenced spreadsheet, certain "rules-of-thumb" help identify when and where SPWPS is most likely to be viable. If your existing or planned well has these characteristics, SPWPS is certainly worth exploring:
1.Is your existing unpowered well over 1/16 of a mile from a power pole? – Extending utility lines is expensive. If your well will be a dead-end line (i.e., does not continue to another electric load), this line extension cost makes SPWPS attractive. Anytime a line extension is needed, SPWPS are likely a viable option.
2.Are you driving any distance to check a generator at an existing well? – The cost of time and mileage to check a generator makes these systems very expensive to operate compared to alternatives, including SPWPS.
3.Do you use shallow wells seasonally, especially in the summer grazing season? – If you have a shallow well (i.e., less than 120 feet) that is used seasonally, especially in the summer, then SPWPS have a greater likelihood of being cost-effective.
4.Does your electric utility have a fixed meter charge
when and where do they pay? | 8
higher than the $265 Wyoming average? – The fixed charge, especially if charged annually on a seasonal well, significantly increases the costs of utility-sourced electricity compared to SPWPS.
5.Are you willing to install your SPWPS? – The installation cost of the SPWPS (much greater than other alternatives) is a major factor in determining viability. If you are willing and able to safely install the SPWPS yourself or can reduce expenses in another fashion, then SPWPS are more likely to be cost-effective.
6.Does your AC pump at an existing well need replaced? – If an AC pump needs replacing, this cost can be subtracted from the net cost of the SPWPS, making the system relatively more affordable.
7.Are you able/willing to use incentives, including tax credits? – Your ability to use tax credits and deductions (i.e., a profitable agricultural operation or personal tax liability) makes SPWPS more affordable. Also, if you are willing to use USDA Natural Resources Conservation Service or Rural Development, conservation district, or electric utility incentives, then SPWPS are likely to be attractive.
8.Do you believe utility energy or fixed meter charges will escalate more rapidly than the nominal rate of 2.45 percent assumed in this analysis? – If you think energy will get drastically more expensive, then SPWPS present a viable hedge against these price increases.
9.Do you value renewable energy for other reasons, such as environmental or personal independence? – Personal preference for renewable energy can lower your required rate of return for SPWPS to be viable. A lower discount rate is one way to reflect personal preferences for future benefits.
Conclusion
For our core Kaycee pasture example, SPWPS are a viable alternative, especially when considering the cost of utility line extensions and the labor requirement for generator operation and maintenance. Specific scenarios exist where utility-sourced electricity and generators are the preferred energy sources, but SPWPS are now cost-effective in many, if not most, livestock water pumping applications. As the cost of PV equipment and DC pumps continues